Overline Tube Fender, Pair, TJ/LJ, Aluminum
The
TJ/LJ Aluminum Overline™ Tube Fender
gains the most tire clearance in the industry!
2" ABOVE Tire vs. Typical Tube Fenders
4" BEHIND Tire vs. Typical Tube Fender
4.5" ABOVE Tire vs. Stock Fender Flares
6.5" BEHIND Tire vs. Stock Fender Flares
[more...]
Complete Stock Replacement Fender Kit Includes:
Driver & Passenger Fenders
Replacement Inner Fender Wells
Replacement Battery Trays
All the Hardware needed to install
Note:
Comp Rail
, 4", 6" or 8" Flares Sold Separately
"LED Marker Lights are not included"
Click here to add LED Marker Lights to your order now.
[less...]
Availability
RAW Usually Ships in 1 to 2 Weeks
Price As Configured:
MetalCloak's Jeep Wrangler TJ/LJ Body Armor
Who Is MetalCloak?
MetalCloak creates Game-Changing Products for the Off Road Enthusiast.
Black Powder Coat
MetalCloak's Premium Black Textured Powdercoat process is detailed in this updated video.
THE TECH
TJ/LJ Overline Tube Fenders
Most Tire Clearance in the Jeep Industry.
Gain more tire clearance for a true low center of gravity build!
Read this article in Four Wheeler magazine that details the ease of installation for the MetalCloak Tube Fenders!
True Low Center of Gravity Builds - Play around with 35s on a Stock TJ or Krawl Hard with 37s on a 3" lift!
Gain Highline Kit clearance without Hacking or Replacing your Hood. No hacking your Stock Fenders like other tube fenders require. Set them aside or resell them!
Installation is tremendously easy -- and we are not just saying that.
Uses Stock Battery & Air Box! No need to buy a replacement battery or air box like other companies require.
The TJ/LJ Overline Fender Kit Comes With:
Overline Fenders
Access Panels
Replacement Fender Wells
Replacement Battery Trays
Hardware
Most Tire Clearance
Clearance is not just about what is ABOVE your tire, it is also what is BEHIND your tire. And compared to other typical tube fenders, we can't be beat:

• 2.6" ABOVE tire vs. Other Tube Fenders • 5.1" ABOVE tire vs. Stock Flares
• 5" BEHIND tire vs. Typical Flat Fenders • 6.5" BEHIND tire vs. Stock Flares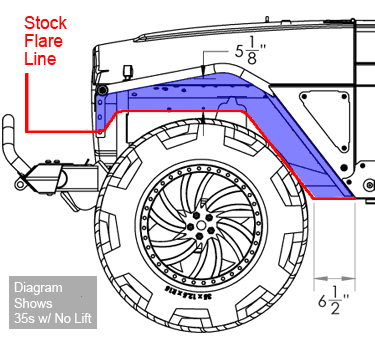 Most Turning Clearance
By giving you a replacment battery tray MetalCloak gives you more room behind the tire, so unlike typical tube fenders, you don't rub on a simple turn.
The Proof
These diagrams silenced the critics and proved that MetalCloak truly was the best in the industry.
Here they are shown with the Arched Tube Fender, but the results are similar for the Overline.
Integrated LED Marker Lights
MetalCloak's Fenders are about clean lines and great fitment; it continues down to the last details
Attachment points for our Low Profile LED Marker Lights are seamlessly integrated into the fender and out of harm's way, perfectly complimenting the styling with purpose and safety.
TECHNICAL SPECIFICATIONS
SHIPPING & MATERIAL SPECIFICATIONS
Items
Materials
Driver & Passenger Fenders
1/8" Aluminum Plate
1 1/2" .125 Aluminum Tubing
Inner Fender Wells
1/16" Aluminum Plate
Replacement Battery Trays
11GA Cold Rolled Steel Plate
Access Panels
1/16" Aluminum Plate
Total Weight
36 lbs
Available in Raw?
Yes
Available in Black Powdercoat?
Yes

INSTALLATION