8" Overline Front Flare, Pair, TJ/LJ/YJ
The
MetalCloak 8" TJ/LJ/YJ Overline Tube Fender Flare
gives you maximum tire clearance with that traditional "flat fender" appeal.
Quick Release Ball Lock Joints secure each end of the Flare for incredible strength while providing the best turning clearance, best object deflection angle and best tire clearance in the industry.
[more...]
2.6" ABOVE Tire vs. Typical Tube Fenders
5" BEHIND Tire vs. Typical Tube Fender
5.1" ABOVE Tire vs. Stock Fender Flares
6.5" BEHIND Tire vs. Stock Fender Flares
Easy to install Overline Tube Flare kit includes:
Driver & Passenger 8" Tube Flares
Two 18-8 SS bolts
Note:
Comp Rail
, 4" or 6" versions are available.
Note:
You MUST have MetalCloak Overline Tube Fenders (YJ/TJ/LJ) to mount this flare. The flare only mounts on the MetalCloak Overline Tube Fender.
[less...]
Availability
RAW Usually Ships in 1 to 2 Weeks
Price As Configured:
MetalCloak's Jeep Wrangler TJ/LJ/YJ Body Armor
Who Is MetalCloak?
MetalCloak creates Game-Changing Products for the Off Road Enthusiast.
Black Powder Coat
MetalCloak's Premium Black Textured Powdercoat process is detailed in this updated video.
8" TJ/LJ/YJ Flares
Keep them on for protection on the trail or the street, or remove them in minutes for those tight, narrow runs. Easily release the two Ball Lock Joints with an allen wrench and two 18-8 Stainless Steel bolts.
THE TECH
TJ/LJ/YJ Overline Front Flares
Most Tire Clearance
Clearance is not just about what is ABOVE your tire, it is also what is BEHIND your tire. And compared to other typical tube fenders, we can't be beat:

• 2.6" ABOVE tire vs. Other Tube Fenders • 5.1" ABOVE tire vs. Stock Flares
• 5" BEHIND tire vs. Typical Flat Fenders • 6.5" BEHIND tire vs. Stock Flares
Strength & Coverage By Design
Our signature Quick Release "Ball Lock Joint" keeps trail stresses on the rigid joint and not on the bolt.
Object Deflection & Turning Clearance
A 15° Object Deflection Angle, the best in the industry. Coverage where it counts, Turning Clearance where it's critical.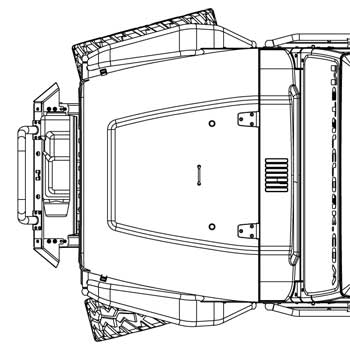 The Proof
These diagrams silenced the critics and proved that MetalCloak truly was the best in the industry.
Here they are shown with the Arched Tube Fender, but the results are similar for the Overline.
TECHNICAL SPECIFICATIONS
SHIPPING & MATERIAL SPECIFICATIONS
Items
Materials
Driver & Passenger Flares
12GA Cold Rolled Steel Plate
1 1/2" .120 Steel Tubing
Solid Steel Ball Ends
Total Weight
36 lbs
Available in Raw?
Yes
Available in Black Powdercoat?
Yes

INSTALLATION