Rear Flare Mounting Plate, Pair, CJ-5/CJ-7 Mod Cut
The
MetalCloak CJ5 ('72-'83) & CJ7 ('76-'86) Mod Cut Rear Flare Mounting Base Plates
install easily and with only minor Body Modification, and provides additional strength to the vulnerable wheel well opening allowing bigger tires on a lower lift
Designed specifically as a mounting system for our
Rub Rail
,
4"
or
6"
Quick Release rear flares, the flare mounting hardware is built right in.
[more...]


The Rear Flare Base Plate kit includes:
Driver & Passenger Base Plates
18-8 SS Hardware Kit
Aluminum Flare Mounting Brackets
Note:
Due to the age of the vehicle, CJ's can have previously unknown fitment issues. Most times all will be fine, but we never know until you try to bolt them on. Our products are designed for the best possible fitment, but, tubs may vary with age.
Note:
If you have a CJ-5 between 1972 - 1975 You may experience fitment issues. The mounting plate overlaps, but does not cover or close off the "notch" at the top rail of the tub. Feel free to Contact Us, if you have questions or need clarification.
[less...]
Availability
Usually Ships in 2-4 Weeks
Price As Configured:
MetalCloak's Jeep Wrangler CJ Body Armor
Who Is MetalCloak?
MetalCloak creates Game-Changing Products for the Off Road Enthusiast.
Black Powder Coat
MetalCloak's Premium Black Textured Powdercoat process is detailed in this updated video.
THE TECH
CJ Stock Rear Base Plates
Rear Flare Mounting Plates, designed to mount the Quick Release Flares.
11GA Cold Rolled Steel Plate creates a solid mounting point for your Quick Release Flares.
Adds additional strength to your wheel well.
Quick Release flares available in Rub Rail, 4", 6" or 8".
NOTE: Mounting plates for CJ's 1972 and later. CJ's tubs vary by model and will not all fit the same.
CJ5 Owners, Mounting Plate will cover but not close off the notorious "notch" at the top of the tub.
Fully integrates with the MetalCloak body armor system.
Mod Cut = Bigger Tires
Mod Cut requires a small cut of the tube from behind and in front of the tire.
Body Mod Base Plate trumps the Stock Plastic Flares.
Integrated Body Armor, With Options!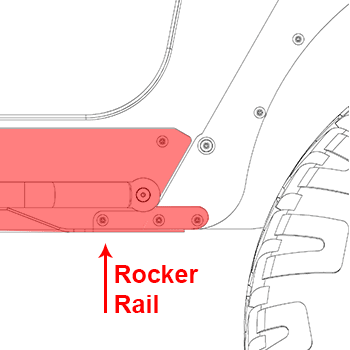 The Base Plate integrates with our Rocker Rail creating one solid unit of protection.
Mod-Cut Mounting Plate allows for plenty of room for 35s on CJ-7 with a 2" body lift.
TECHNICAL SPECIFICATIONS
SHIPPING & MATERIAL SPECIFICATIONS
| Items | Materials |
| --- | --- |
| Driver & Passenger Base Plates | 11GA Cold Rolled Steel |
| Total Weight | 14 lbs |
| Available in Raw? | Yes |
| Available in Black Powdercoat? | Yes |

INSTALLATION