JK Wrangler Full Overland System 2 Door
Availability
Raw Metal Usually Ships in 1 - 2 Weeks
Price As Configured:
MetalCloak's Jeep Wrangler JK Body Armor
Who Is MetalCloak?
MetalCloak creates Game-Changing Products for the Off Road Enthusiast.
Black Powder Coat
MetalCloak's Premium Black Textured Powdercoat process is detailed in this updated video.
THE TECH
JK 2-Door Overland System
Don't Need Extreme? Go Overland!
Our JK Overline Tube Fenders are famous for their strength and having the most clearance in the industry.But for some, the Overlines are simply a little too extreme.
Now, you have a choice.Introducing the Overlands from MetalCloak.
Easier to Install than the MetalCloak Overline Fenders
Same Quality Craftsmanship
Precision Fit
Strength for the Trail
One Piece Solution
JK Rocker Exo Skins
That extra layer of protection.
The ExoSkin is a strong yet light weight 1/8" aluminum skin that protects and reinforces the thin sheet metal of the JK.
Designed to integrate with the JK Overland Rocker Rails with; a great look with either the Factory or MetalCloak Fenders!
JK 2-Door Overland Rocker Base
That extra layer of protection.
No body modification, cutting or welding needed. Just bolt on to the MetalCloak Overland 2 Door Rocker Rail.
Combined with the optional Flip Step rub rails, you have full, rock-biting, functional protection for your rig.
JK 2-Door Rocker Flip Step
The JK Overland Flip Step can be mounted in multiple configurations creating an easy Step Plate or a Rub-Rail & Low-Step combination.
JK Rear Flare
The Second Half of our Overland Series...
For the discerning JK owner who wants quality craftsmanship without the extreme strength of our ExoSkin system.
The JK Wrangler Overland Rear Flare provides 6" of coverage and an increased "mud guard" to line up with stock style rear bumpers.
Easier to Install
Full Rear Tire Coverage
Same MetalCloak Craftsmanship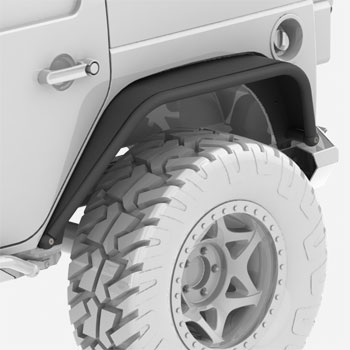 TECHNICAL SPECIFICATIONS
SHIPPING & MATERIAL SPECIFICATIONS
Items
Materials
Driver & Passenger Fenders
12GA Cold Steel Plate
1 1/2" .120 Steel Tubing
Solid Steel Ball Ends
Driver & Passenger Bracket
1/8" Aluminum Plate
Driver & Passenger Flip Step
11GA Cold Steel Plate
1 1/2"-.120 Steel Tubing
Solid Steel Balls
Driver & Passenger Rocker Base
11GA Cold Rolled Steel
Driver & Passenger Rear Fenders
12GA Cold Steel Plate
1 1/2" .120 Steel Tubing
Solid Steel Ball Ends
Total Weight
184 lbs
Available in Raw?
Yes
Available in Black Powdercoat?
Yes

INSTALLATION