IT ALL STARTS WITH THE BUSHINGS
The Patented Duroflex™ Joint ( metalcloakpatents.com) is the key to getting the greatest flex in a JK Wrangler bolt-on suspension kit. Period.

MetalCloak has taken the best features of the most widely used control arm joints and combined those features to create the Duroflex Joint, producing a Low-Maintenance, High-Misalignment (34˚), Self-Centering, Rebuildable Joint with an OEM quality ride.
Now with Kevlar!
The MetalCloak Kevlar® bushings can be identified by the M located on the surface.

DuPont™ Kevlar® continues to take on new challenges, their scientists are continuously innovating and working on a range of new opportunities through collaborations with communities, industrial manufacturers, and governments. Together we're bringing the strength, durability and performance of Kevlar® to new frontiers. Kevlar® aramid fiber is pushing boundaries and defying obstacles every day.
Control Arm Specs
JK Wrangler Lower Front
(SKU #7001)
CNC Formed
3/16" Wall DOM Steel
1.5" OD
Precision Locking Nut
Gold Zinc Plate
Duroflex Joint at Both Ends
JK Wrangler Upper Front
(SKU #7002)
CNC Machined
3/16" Wall DOM Steel
1.25" OD
3/16" Steel Clevis
Precision Locking Nut
Gold Zinc Plated
Duroflex Joint
JK Wrangler Lower Rear
(SKU #7003)
CNC Machined
3/16" Wall DOM Steel
1.5" OD
Precision Locking Nut
Gold Zinc Plate
Duroflex Joint at Both Ends
Lengthened 5/8" for Best Axle Position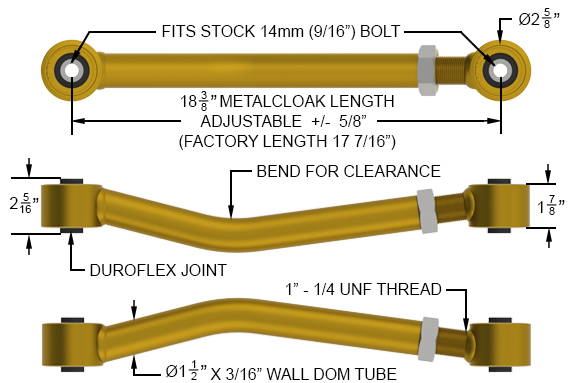 JK Wrangler Upper Rear
(SKU #7004)
CNC Formed
3/16" Wall DOM Steel
1.5" OD
Precision Locking Nut
Designed for Oversize Tire Clearance
Gold Zinc Plate
Duroflex Joint at Both Ends
Lengthened for Best Axle Position
Degrees of Articulation
MetalCloak's Duroflex Joint provides 28˚ more articulation and flex than typical control arms!
What are True Dual Rate Coils?
MetalCloak JK Wrangler True Dual Rate™ Coils have one of the longest free length in the industry for greater articulation without sacrificing the OEM ride quality.
Without the advantage of the Dual Rate Design, the required Spring Rate would be too low and "squishy" -- just loading your Jeep up with supplies would affect ride height and quality.
Not just any track bar bushing...meet the Patented Durotrak
The Patented Durotrak ™ Bushing (metalcloakpatents.com) is a NVH (noise, vibration, harshness) bushing made with a proprietary rubber compound unique to MetalCloak. The Durotrak™ two part bushing is comprised of two pieces that thread together making this bushing simple to install without a press, reduces vibration and harshness transferred to the driver, and improves vehicle steering input.
Solid Chromoly front track bar keeps you... well.. on track
Formed for ultimate Up-Travel & Down-Travel the JK Wrangler Front Track Bar gives unprecedented strength, clearance, and improved ride stability.
JK Wrangler Durotrak rear track bar - A first in Hi-Clearance!
The Solid Chromoly track bar is uniquely designed to clear on up-travel as well as downtravel. No other track bar is designed with up-travel in mind.
Bolt on bracket is a key component
The bolt-on relocation and clearance bracket provides an easy to install solution that keeps the track bar... on track.
Stop The Guess Work. Bump It Up!
Metalcloak Adjustable Bump Stop System...
Adjust from 1" - 4" Without Removing Coils
Perfect Height Regardless of Tire Size
Thermoset Rubber Dampens Impact
Additional Pads Available on Request
Rear Adjustabler Bump Stops!
Manufactured from trail-proven natural thermoset rubber, each puck is designed to work universally with your JK Wrangler.

Designed specifically for the JK Wrangler, the system comes with 4 Rectangular Pucks, allowing for easy adjustment between 1" - 4"
JK Wrangler Replacement Brake Lines, 24.5"
From the Teflon Inner Core, to the Stainless Steel Braid and Poly Safety Coat, the MetalCloak replacement Brake Lines are the best available on the market today.
Longer than typical brake lines of similar lift heights because of our additional clearance and travel.