Overland Tube Fenders, JK Wrangler, Rear
The JK Wrangler Overland Rear Flare gives you all the quality craftsmanship of a MetalCloak Fender, without the extreme strength provided by the MetalCloak ExoSkins.

Get the highest quality flare with the best fitment, Overland flares provide great looks and additional strength over stock in an easier to install package than MetalCloak Overlines.[more...]

While the ExoSkin is the ONLY way in the industry to get the strength that can abuse rocks without denting your body, the Overlands provide coverage and protection for the discerning JK owner.

Note: This system comes in Raw and MetalCloak's Signature Black Powdercoat. [less...]
Availability
Raw Metal Usually Ships in 1 - 2 Weeks
Price As Configured:
MetalCloak's Jeep Wrangler JK Body Armor
Who Is MetalCloak?
MetalCloak creates Game-Changing Products for the Off Road Enthusiast.
Introducing Overland Fenders
Metalcloak Original Jeep JK Wrangler Tube Fenders, the Overlines, provide the most clearance and strength of any bolt-on tube fender, but now JK Owners have a choice. Introducing the Overlands, a fender for the Expeditionary Jeep Owner.
THE TECH
JK Overland Rear Tube Fenders
The Second Half of our Overland Series...
For the discerning JK owner who wants quality craftsmanship without the extreme strength of our ExoSkin system.
The JK Wrangler Overland Rear Flare provides 6" of coverage and an increased "mud guard" to line up with stock style rear bumpers.
Easier to Install
Full Rear Tire Coverage
Same MetalCloak Craftsmanship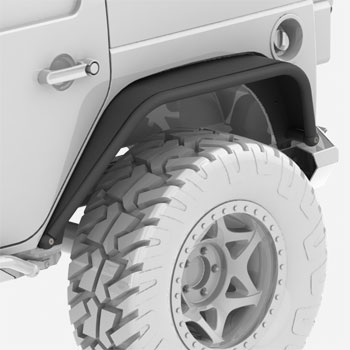 More Coverage
Max Clearance Max Strength:
The engineers at MetalCloak made an extra effort to ensure the Overland Rear Flares had the additional "mud guard" many of you were asking for.
6" Flare with Additional Tire Coverage
Lines Up with Most Full Size Rear Bumpers
Solid Construction to Handle Hits and Scrapes
TECHNICAL SPECIFICATIONS
SHIPPING & MATERIAL SPECIFICATIONS
Items
Materials
Driver & Passenger Rear Fenders
12GA Cold Steel Plate
1 1/2" .120 Steel Tubing
Solid Steel Ball Ends
Total Weight
56 lbs
Available in Raw?
Yes
Available in Black Powdercoat?
Yes

INSTALLATION